Andrzej Malinowski
Artiste peintre
Textes
Wywiad
Extract from an interview between
Andrzej Malinowski and Frédéric Chappey,
Curator of the Musée d'art et d'histoire Louis Senlecq (May 2004).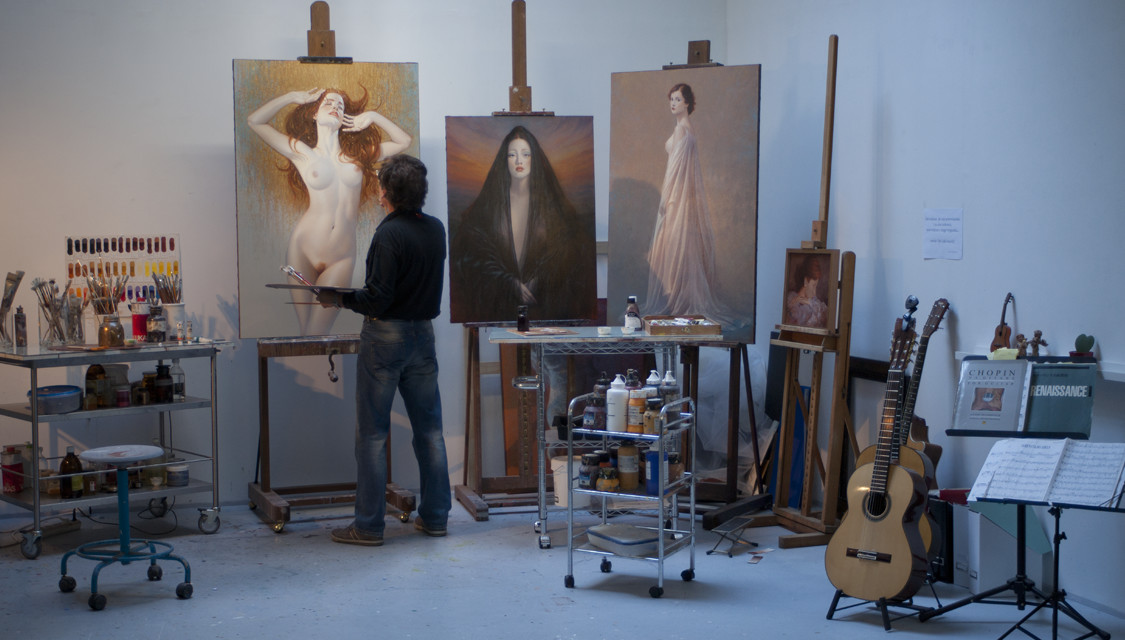 F.C. : The use of allegories, the winds, the flowing drapery
- is this still "contemporary art"?
I could say yes in all innocence - as a part of the
contemporary world in which I live, and seeking
to address my contemporaries through my work.
Sadly, the dominance of the illegitimate heirs of Modern
Art has transformed the expression "Contemporary Art"
into the trademark of an exclusive model of thought
or action. This model offered, or rather, imposed on us
by "designers of official taste" frustrates me on several
points.
Revolutions only bring destruction; with novelties
so often meaningless and ephemeral and manifestos
glaringly empty.
In a work of art, it is not the object in itself, nor the
philosophy which guides it, but its RARE MAGIC, (far from
being pre-established) which gives it its priceless worth.
This magic has no need of a "WHY".
What it does need is cultural and historical reference
points, a certain communion of spirit.
There is a world of difference between the "desire to take
flight", "being capable of strengthening your wings,
learning to fly" and "being able to draw in others to the
very far heights of ecstasy, beyond culture and time".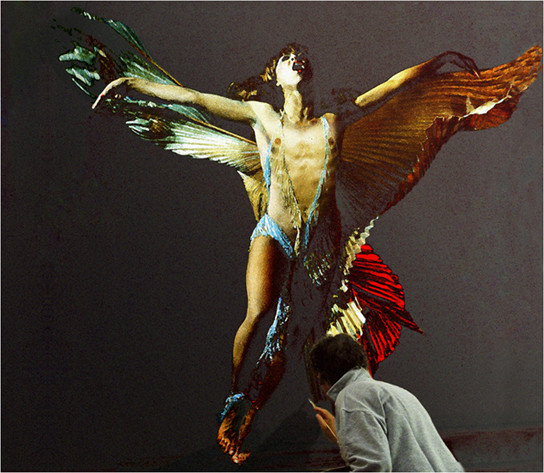 To be more precise, there are several qualitative levels
to artistic commitment. There's the engagement of those
who declare themselves artists because they have
something "relevant" to say. In the majority of cases,
they disown the transformation of these ideas into
masterpieces, leaving the "lowly work" to followers and
craftsmen. Such figures are but a "puffing up of the tiny
ego of the so-called artist" (Jean-Louis Harouel).
In the second case we see someone who devotes
his entire life and energy to the study and improvement
of his craft, to translating his thoughts and emotions
through matter and the image frozen within.
The nobility of this choice is in opposition to personal
self-promotion, to the striking of a narcissistic pose.
It requires a denial of the self by the artist, and patience
and courage beyond all limits and without end...
The true value of a work is the fruit of this engagement,
infinitely more valuable than cynical production,
constantly updated and industrialised for mass
production to supply the supermarkets of art.
Lastly, in certain rare and exceptional cases - and we may
no longer be of this world to judge - there are those
whose work, simply by its visual power, frees itself from its
period, its story, and becomes an inexhaustible source of
curious emotion, of pleasure, throughout space and
time...
It is on this power "to draw in others" that the estimation
of a work's quality should be based,
on its relevance and of its performance.
A PAINTING'S POWER TO STIR IS BASED IN THE IMAGE
IT CONTAINS AND IN THE MAGIC OF AN OBJECT
CAREFULLY ELABORATED AND CRAFTED. NO THEORY, NOR
ANY DISCOURSE, CAN REPLACE THIS.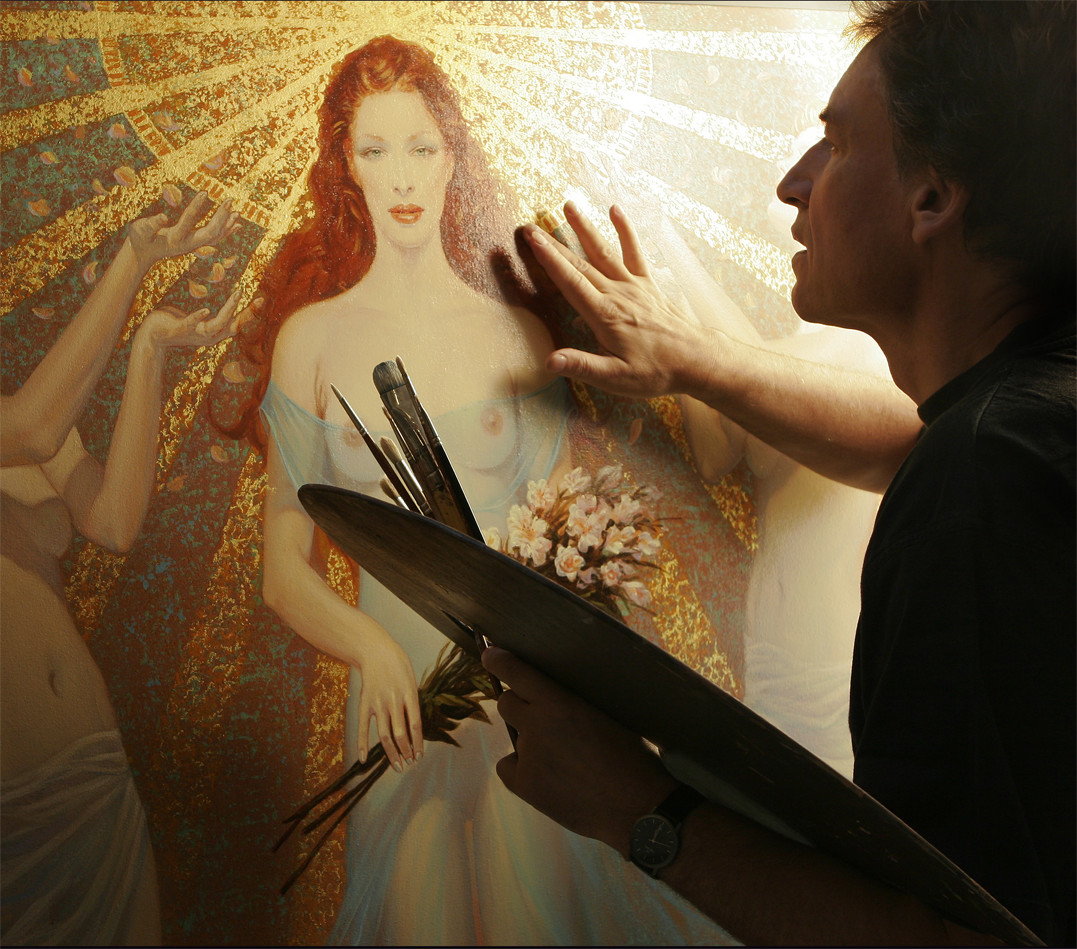 I DO NOT BELIEVE THAT THOUGHT PREVAILS OVER
EMOTION, THAT A JADED GAZE IS WORTH MORE THAN
THAT CAST BY AN EYE STILL ENCHANTED, THAT WHAT
IS NEW IS NECESSARILY BETTER THAN WHAT CAME
BEFORE.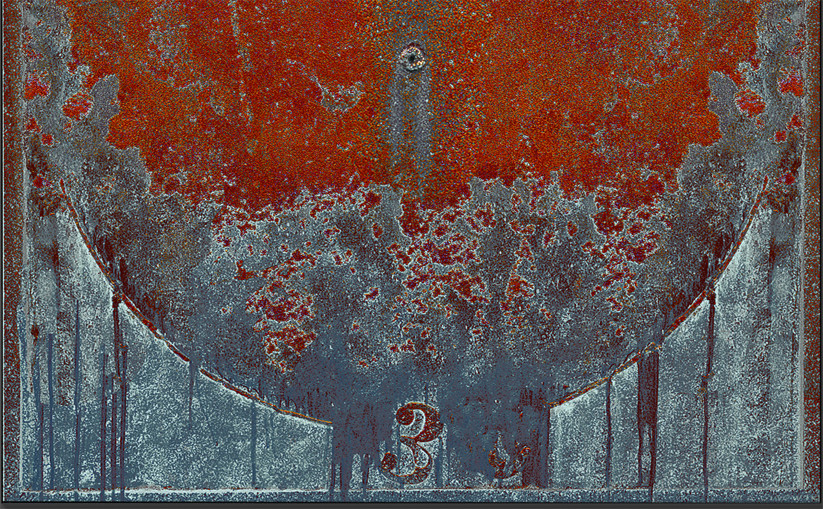 I therefore avoid everything which might pigeon-hole me
within a "typical contemporary approach". "Newism" and
"avant-gardism" are, to my mind, a myopic illusion,
a short-sighted pretension.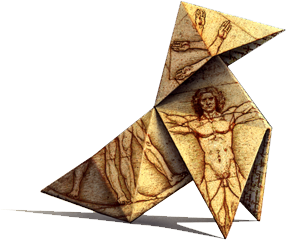 "Forward" movement does not exist in creation. "Progress" if there is any, forms a Spiral, an eternal return back to things.
Everything just made has been made before innumerable times, and will unceasingly be attempted again, sometimes better, sometimes less well.
For me, art is a way of living turned towards Others,
for Others; creating a bridge of common emotion.
It is a constraint to subjugate the IDEA to an original
purpose blossoming from a SEED WHICH WE DO NOT
OWN.
Being an Artist supposes an obligation to be humble
in the face of all that has been created, throughout the
centuries. We have an obligation to acknowledge and
give thanks for this legacy we have to pass on.
Even with the spotlight all too often trained on others'
approaches, one must BELIEVE in sincere work, real
emotion, and in the pleasure of receiving and giving,
always and forever.
What to do in a world where those that speak fast and
loud overshadow those who sing softly and beautifully?
SING EVEN MORE SOFTLY IN THE MOST BEAUTIFUL WAY
POSSIBLE.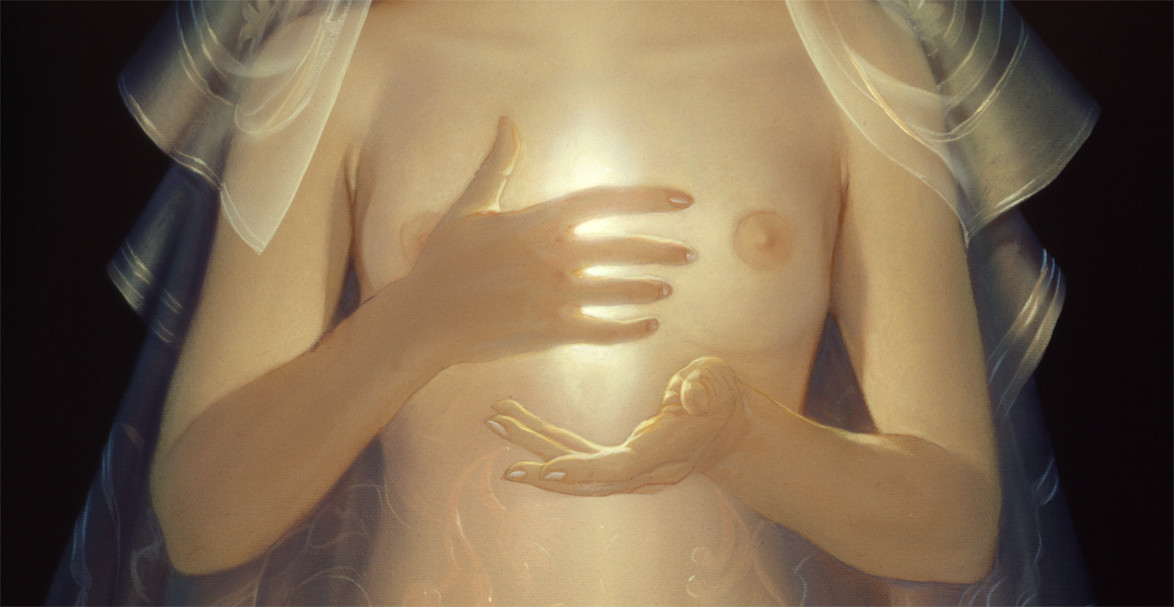 F.C. : Why choose these three subjects : Time, Landscape,
and Women?
I paint landscapes as if they were women, I paint women
as landscapes, clocks as if they were landscapes through
time and femininity. I create sculptures composed of
pages of Writing which blossom under our eyes like the
mystery of femininity.
In essence, my work revolves around the same subject.
The theme of women in art is universal and eternal,
it's richness unbounded.
While far from limiting myself to a mere contemplation
of feminine forms, I remain conscious of the powerful
spell they can cast. I continually toil to express, to the best
of my ability, the beauty of Women, as an ally of my
desire to captivate the viewer's gaze.
Going beyond this I strive to bring my work to the limits
of the sublime so that the gaze, once captured, is halted
by a sense of the untouchable. Then Magic happens, and
the woman-model is no longer, the Divine being revealed.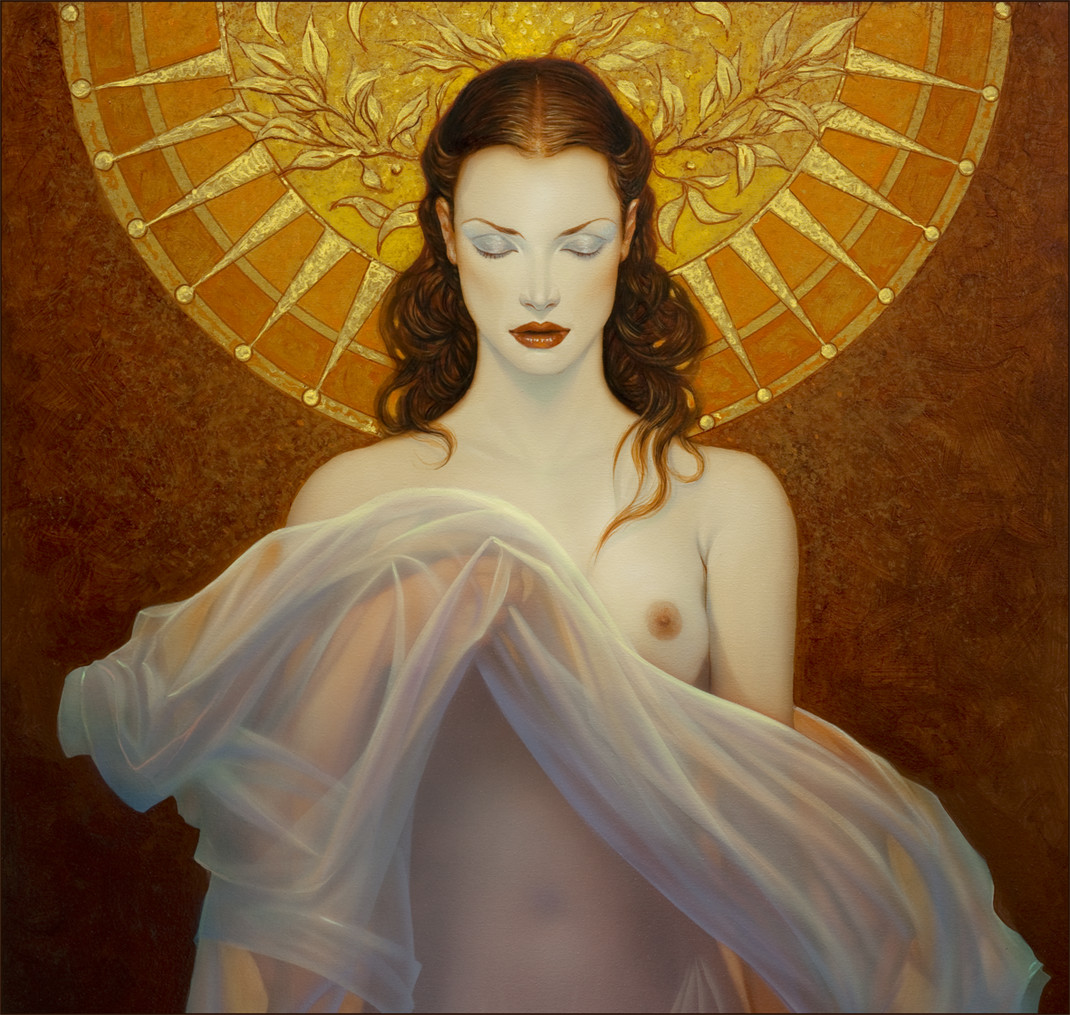 This goes beyond the fact I that paint women as I would
like them to be.
I feel I'm on a quest for what one might call
"profane idolatry".
I'm continually enthralled by thousand-year-old imagery
of Byzantine goddesses, of Greece and ancient Rome, of
the symbolists of the late 19th Century, glamorous Stars
in the black and white of Photography and Cinema,
of Haute-Couture catwalk shows...
The spell is always the same: Seduction contrasted with
the forbidden or inaccessible.
Maybe it's this opposition, allied with Beauty, which
contributes to the glow of the Transcendental.
Golden backgrounds in the style of Byzantine Icons,
light radiating from bodies, haloed heads, the flows
of drapery and wings hinted at are all metaphors
in my paintings to illustrate this glow.
My Beauties, travelling from Shadow to Light, appear
as timeless Symbols of hope, of happiness, of modesty,
of charm, of mystery....
MY WISH IS FOR THEM TO BRING, TO THOSE WHO DESIRE
IT, THE FULL BOUNTY OF PEACE, HARMONY AND
HAPPINESS.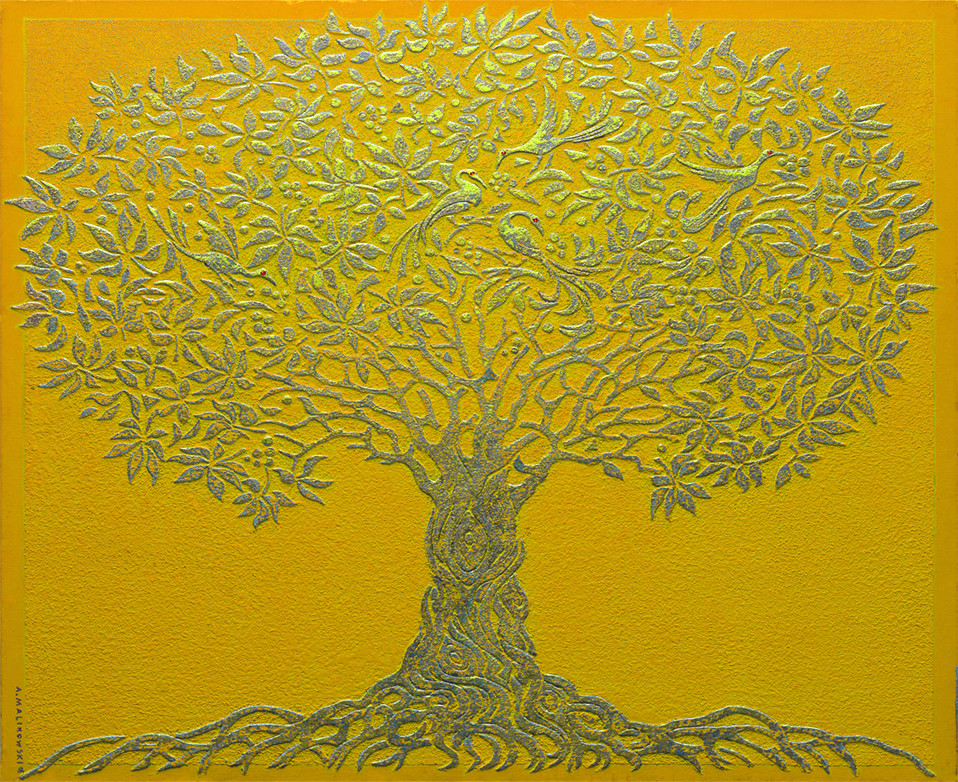 F.C. : A few words on your technique and way
of working?
My choice of themes is a matter of lengthy reflection
and careful "mise-en-scène". Then comes the creation
of a harmony of colours and materials to match the
composition.
The choice of model is key, not only for her beauty but
also for her grace, her patience and her capacity to "play
a role". The drapery and its styling also plays an important
role.
Work on preparatory drawings can take weeks.
Sometimes sketches wait entire months in my boxes
because I need to be sure nothing is missing from
the composition.
Preparing canvases and colours is also a long and
meticulous process. The canvas must be without
imperfections and sufficiently fine to not disturb the
subtle grain of the figures' skin. I mix colours myself,
which can take several days, but is definitely worth it.
My painting style is made up of dozens of transparent
resinous layers, requiring complete drying each time.
It's this gloss technique from Flemish painting which gives
a troubling effect on the surface, like that of living skin.
Metallics are created using powders or leaf in several
tones. Surfaces obtained in this way have a capacity
to appear and disappear in front of the viewer's eyes,
depending on the light.
After all, Art is not just a Craft distilled by the alchemy
of experience, knowledge, imagination and emotion.
For those who seek to discover more of my secrets,
I will simply repeat that most importantly, and above all
else, the main and irreplaceable ingredient is hard work.